Our company TashaJacks was founded by Natasha Ratajczak in 2003.
We have become a leading supplier of premium, high quality hair for Wigs, Hair Extensions and Costumes.
Our client base has grown significantly over the years and consists of individuals and businesses working within the hair industry, fitting hair extensions, making wigs and hair pieces plus costumes for use in theatre productions, the opera and the film industry. We have been privileged to work with some of the best, creative minds within this business supplying hair for the famous, the screen and the stage.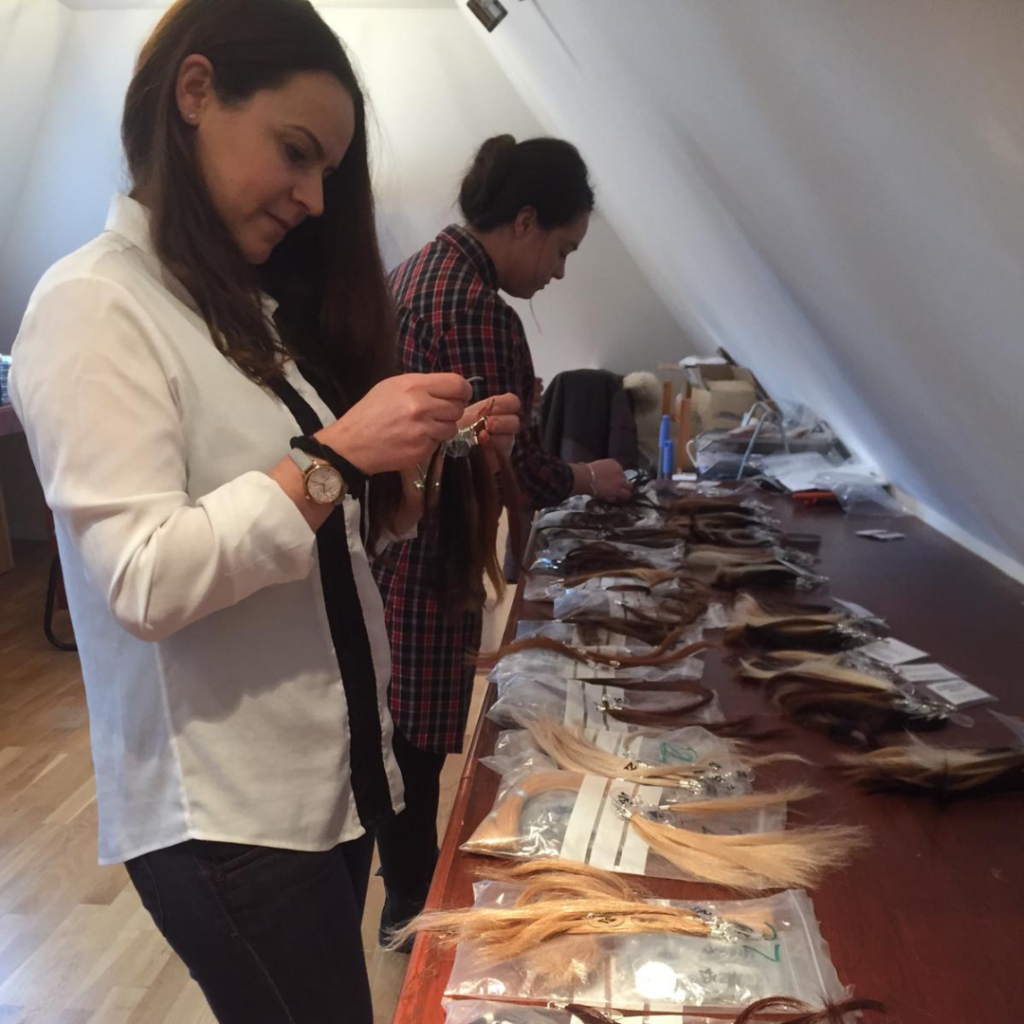 Meet The Team
Founder and CEO
Natasha is the founder of TashaJacks and very much at the forefront of the company. Through her decades of experience and the knowledge she has obtained during that time she is able to oversee every aspect of the business. She has well established connections with suppliers to source the best raw hair from across the world and is involved with the colouring, hand preparing, colour matching and mixing of stock items and managing client orders. As the business has grown since its birth over 20 years ago, she has increased and trained her team to the highest of standards and they have all become not only an integral part of the company but also what she describes as her TashaJacks family.
Office Manager
Clara manages the office here at TashaJacks and is the first point of contact for our clients. She assists with email enquiries, account set ups, customer orders, payments and dispatch. Her helpful and positive nature allows her to be ready for whatever the day brings and we couldn't be without her.
Hair Specialists
Ela and Charlotte are our hair specialists and have over 15 year's experience between them working at TashaJacks. They run our workshop on a daily basis and are perfectionists when it comes to the art of final stage hair preparation. They are highly experienced in double drawing, colour blending, hand weaving, and bonding and are responsible for colour matching and hand mixing orders.
Colour Specialist
Paula works with our natural, raw hair from when it arrives into the business to when it is ready to be hand mixed by our Hair Specialists. As she is an experienced hairdresser and extensionist, her years of experience and understanding of human hair offers valuable insight into the processes undertaken when colouring hair to achieve a comprehensive range of colours. We ensure to keep the hair root to point correct during the colouring process and all our hair is double drawn prior to sale. We also offer a bespoke colour matching service which enables clients to achieve their create vision.
Why TashaJacks?
We are a UK based company with over 30 years experience of producing the highest quality hair using traditional processes and tools. We have a comprehensive stock of the highest quality, handcrafted, double drawn hair available on the market and provide a truly bespoke service for every client.
Our ranges include naturally straight, wavy and curly hair to suit all hair types and we also can supply animal hair for wig makers. We offer Loose, Bonded and Micro-Bonded Hair, Hand Made Wefts, and Tape Wefts.
We are competitively priced, offer support and technical advice before and after sale with most stock orders being dispatched the next working day.